Eutaw Historic Pilgrimage 2007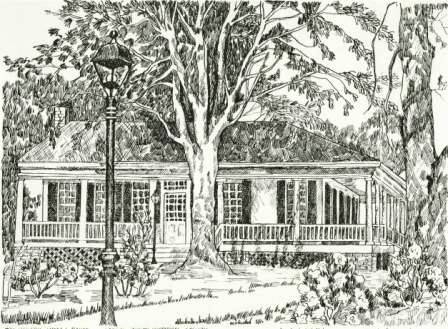 Experience southern hospitality at its finest during the Greene County Historical Society's Annual Fall Home Tour on Saturday, October 13 and Sunday, October 14th, 2007. Tickets will be available for purchase during the tour at the Vaughn-Morrow house located at 310 Main Street in Eutaw. (Above drawing of the Vaughn-Morrow house by Diana Liverman, Courtesy Greene County Historical Society)
Dates
Saturday, October 13, 2007 9:00 a.m. to 12:00 p.m. and 1:00 p.m. to 5:00 p.m.
Sunday, October 14, 2007 1:00 p.m. to 5:00 p.m.
Ticket Information
Adults: $20.00
Children under 12: $10.00
Activities
Kim Jacobson, author of Greene County and Mesopotamia Cemetery, will be signing her new book at the Vaughan-Morrow house located at 310 Main Street in Eutaw, on Saturday, October 13 from 9:00 a.m. until noon. The newly released book will be available for sale during the Pilgrimage. (More Vaughan-Morrow information below.)
Tour Tickets Available at the Vaughan-Morrow House
310 Main Street, Eutaw, Alabama 35462 Google Map
Buy your tickets here, tour the gift area, purchase wonderful bread made by the Mennonite ladies from Geiger and visit displays of elegant estate jewelry and hundreds of sterling silver flatware patters all available at reasonable prices.
Group Ticket Information
(groups of 10 or more, tickets are available for $15.00 each)
Phone: (205) 372-2326 or (205) 372-9480
Download brochure (pdf - 634kb)
Highlights of the 2007 Pilgrimage include:
Vaughn-Morrow House (ca. 1841)

Iredell P. Vaughn, a tailor, built this home for his bride, Miss Ann Margaret Steele, in 1841. Many homes in Eutaw feature characteristics of this Raised Creole Cottage style. The Vaughn-Morrow house has been restored by the Greene County Historical Society, and is now operated as its headquarters.

First Presbyterian Church (ca. 1851)

300 Main Street, Eutaw

The Presbyterian Church was originally organized in 1824 by Tuscaloosa Presbytery as Mesopotamia Presbyterian Church and stood in front of Mesopotamia Cemetery. The congregation moved to the new Greek Revival, two-story frame church after its completion in 1851. The original whale-oil pulpit lamps and the old chandeliers have been wired for electricity. The adjoining educational building was erected in 1959.


St. Stephens Episcopal Church (ca. 1914)
The first St. Stephens Episcopal Church building was constructed in 1848 and was replaced by the current structure in 1914 after a fire destroyed the original structure. The original pews, lectern, font and alter were rescued.
Attoway R. Davis House, 305 Main Street. (early 1840s)

Tradition has it that a two-story, four-room building was moved from its original site across the Warrior River in Old Erie and placed on a lot on Main Street in the new town of Eutaw. In 1840, Attoway Davis added a added two rooms and a porch to the old structure. A physician later purchased the property and built a one room cottage on the east side of the house to serve as his office. The house was bought and restored by Ralph and Diana Liverman and will be operated as a Bed and Breakfast.

Eutaw Avenue Victorian (ca. 1895)

This Victorian home has the date 1895 Incorporated in the gingerbread scroll work in the facade. The home was built in the same design style as the home on the opposite corner as they were owned by the same family. Both homes are now owned by Michael Turner and Larry Sexton who have completed restoration on both homes.

Greene County Probate Office (1856)

Located on the north west corner of the Town Square in Eutaw, the Probate Office was restored by the Greene County Historical Society. The Historical Society also recently restored the Court House fountain on the square and is working on the original court house.

Mesopotamia Cemetery, Mesopotamia Street (Hwy 14)

175 years of history will come alive as costumed volunteers representing some of the original historic home owners now buried in Mesopotamia Cemetery tell their stories. Chat with Stephen Fowler Hale, for which Hale County, Alabama was named or commiserate with Joseph Hall, father of five confederate sons.

Myrtle Hill

Boligee Hill was built by Dr. John David Means of Newberry South Carolina ca. 1835. In 1869 Cornelia Hays bought the plantation, planted sweet myrtle and renamed it Myrtle Hall. Mr. & Mrs. Beeker, the current owners, have renamed the home Myrtle Hill.

Thornhill, near Forkland, Alabama (ca. 1832)

Thornhill, built by James Innes Thornton in 1833, is situated on a high hilltop with a panoramic two-county view. Thornton's Greek Revival mansion, with its fluted Ionic columns, was named after the family's England ancestral home Thorn-On-The-Hill.