ELIZA SIMS AND TWO LIBRARIES

By Clinton F. Cross
1. Preface
This is a story about Eliza Harlan-Cross-Tannehill-Dunlap-Sims (#2871)(Harlan, 644), wife of Nicholas P. Sims and mother of Oscar E. Dunlap and Samuel Meriwether Dunlap, Jr. For future reference, a number in this paper after the name of someone (in this case #2871 for Eliza) refers to the number in Alpheus Harlan's book that identifies the particular individual about whom the author is writing (Harlan).

N. P. Sims and O. E. Dunlap founded the Nicholas P. Sims Library in Waxahachie, Texas. Samuel Meriwether Dunlap, Jr. founded the Samuel M. Dunlap Memorial Library in Italy, Texas. Both the Sims and the Dunlap libraries have copies of the Harlan book referred to in the preceding paragraph.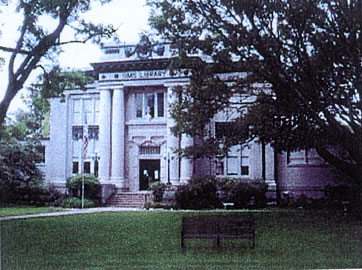 This paper is about Eliza and her family history—-Harlan, Sims, Cross, and Dunlap histories. It is also a tribute to Eliza, after whom no library was ever named.
2. Introduction

William Sims and Judy Cross Sims were the grandparents of Nicholas P. Sims and Eliza Harlan Sims, first cousins who later became husband and wife. Eliza and her third husband, Samuel Meriwether Dunlap, parented Samuel Meriwether Dunlap, Jr., the founder of the S. M. Dunlap Memorial Library in Italy, Texas. Eliza was Nicholas P. Sims' second wife; Nicholas P. Sims was Eliza's fourth husband.

Eliza was born in 1814, the year Francis Scott Key wrote the "Star Spangled Banner," the first of three children born to Elijah and Elizabeth Harlan. She died in 1877, shortly after John Marshall Harlan, her second cousin, wrote his famous dissenting opinion in Plessy v. Ferguson (1896)(Supreme Court, Plessy), in which Harlan condemned the "separate but equal" doctrine.

Hopefully, this paper will remind the reader that we are all connected to each other in many different ways, and also to the past.